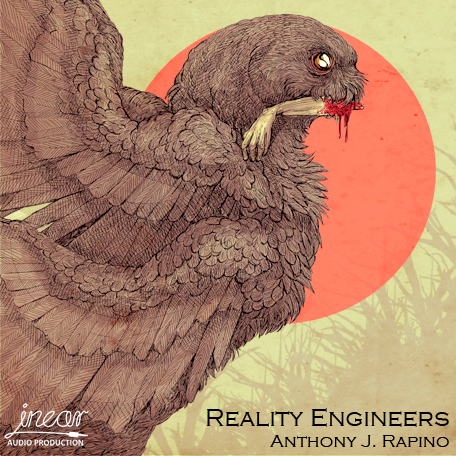 Reality Engineers, the new audiobook novella from Anthony J. Rapino is well on its way to being released. In fact, we can confirm that it will be live and available to download on Sunday 27 October, that's two weeks today.
You may be been following the path of this audiobook through its creation and seeing all the amazing artwork that Michelle Harvey has been coming up with. Well, we thought we would put something a little special together for those who really want to support Up and Coming writers.
If you pre-order Reality Engineers not only will you get access to this amazing audiobook as soon as it becomes available, which is likely to be before the official 'live' date, but we will send you a printed postcard with one of Michelle's sketch designs on it.
This is a first for In Ear and if this goes well, we'll be looking at printing a variety of different artwork and selling it through our online shop. So buy pre-ordering this audiobook you will be helping Up and Coming writers and helping shape the direction of In Ear as it grows. How brilliant is that?
To pre-order, go to the Reality Engineer's Pre-Order page and go through the checkout process as normal. Remember, you can change the currency with the drop-down in the top-let. You will get an email confirming your pre-order. When the audiobook becomes available we will send you a link to the audiobook. Your  postcard will be shipped to you as soon as we have them printed – We will contact you by email with information regarding the progress of this separately.